The CSAS 2018 Distinguished Lecturer is D. Soyini Madison.
Title: Staging Ethnography for Communication, Advocacy, and Civic Engagement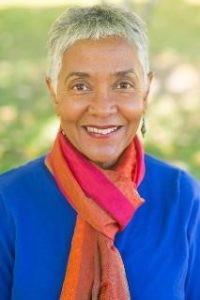 Brief Abstract: The talk offers methods of adapting and devising ethnographic data for the public stage. It will focus on performed ethnography as an improvisational and embodied process that comes into being through the symbolic and communicative actions of touch, speech, sound, movement, and gesture. Communication will be discussed as processes of message production, advocacy, and civic engagement. The talk raises questions relating to performative witnessing across cultures, groups, and organizations (nationally and transnationally) as well as the hermeneutics and deep listening required of oral histories and storytelling.
Biography: D. Soyini Madison focuses on the intersections of labor activism, political economy of human rights, and indigenous performance tactics. She has authored hundreds of articles and five books, including Acts of Activism: Human Rights and Radical Performance, a study of local activists in Ghana who employ performance as a tactical intervention, in their struggles for women's rights, water democracy, and economic justice. Her forthcoming book, Performance, Ethnography, and Communication: Improvisation, and Enactments of Experience, details methods for staging ethnographic data and oral histories through movement and improvisation techniques, in order to build communication and collaborative storytelling. Additionally, Madison has adapted and directed her ethnographic data for the public stage, in such productions as Labor Rites, a mosaic of the USA labor movement; I Have My Story to Tell, an oral history performance of University of North Carolina laborers and service workers; Mandela, the Land, and the People, based on the life and work of Nelson Mandela; Is It a Human Being or A Girl? a performance ethnography on traditional religion, modernity, and gendered poverty in West Africa; and Water Rites, a multi-media performance on the struggle for clean and accessible water in the Global South. Madison is currently Professor of Performance Studies at Northwestern University, with appointments in the Department of African American Studies and the Department of Anthropology.